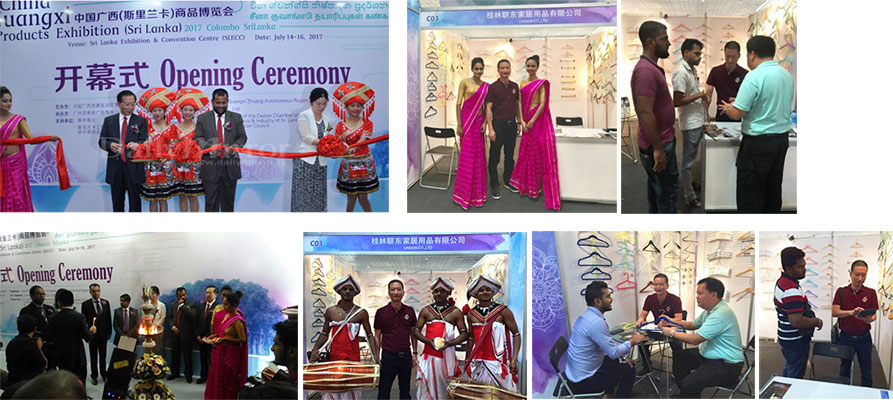 Our chairman Lin was very honored to attend the 2017 Products Exhibition(Sri Lanka). This exhibition was hold between July14 to 16. Lin not only learned a lot from it, but also displayed a series of hangers to customers. Our chairman is very specialized in the field of hangers. He introduced these hangers to the local customers. The customers can get a knowledge of hangers, such as the different materials, different accessories. Lin had a good time in this exhibition which is good to cultural exchange and further the understandings between the two peoples. Hope we have more cooperation in the future.


It is the first time for the Guangxi Government to hold a products exhibition in Sri Lanka. There are 30 booths in this expo and 27 enterprises from Guangxi will participate in the exhibition, including Guangxi Yuchai Machinery Co. Ltd., Guilin Guiye Machinery Co. Ltd., Wuzhou Shenguan Collagen Casing Co. Ltd., Guangxi Beiliu Laotian Ceramics Industry Co. Ltd., Guilin Lindon Co. Ltd., Wuzhou Rixin Plastic Industrial Company Ltd., etc.
The exhibition includes such five categories as electronic products, construction materials and machinery, food and tea-leaves, home textiles and clothing, daily house crafts, covering hundreds of best-selling famous specialties and new high-quality products, which intensively reflect the highest production capacity level of Guangxi.
In recent years, China-Sri Lanka strategic cooperative partnership has proceeded to the best developmental epochs, and the bilateral trade has maintained the momentum of rapid growth. According to the statistics of China Customs, in 2016, the total bilateral trade value between China and Sri Lanka is $ 4.56 billion, of which China's export to Sri Lanka is $ 4.287 billion, and China's import from Sri Lanka is $ 273 million, indicating that China has become Sri Lanka's largest trade partner and source of imports for the first time.
Benefitting from the overall development of China-Sri Lanka relationship, Guangxi also conducts active cooperation and friendly communication with Sri Lanka in various fields. In 2016, the total volume of trade between Guangxi and Sri Lanka has reached $ 78.88 million, increased by 69.3% year on year, reflecting a huge growth potential.